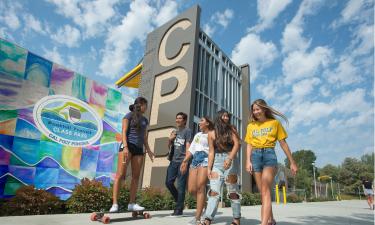 College is Better With Class Pass
All currently enrolled undergraduate and graduate students with at least 1 credit unit at Cal Poly Pomona get FREE RIDES on Foothill Transit buses all semester long!
If you're a student at Cal Poly Pomona, you can get your free Class Pass at the Financial Services Desk, Bronco Student Center, 2nd Floor (BSC, Bldg. 35-2123)
Financial Services Desk, Bronco Student Center, 2nd Floor (BSC, Bldg. 35-2123)
3801 W Temple Ave Pomona
Walnut, CA 91768
United States
POINT (-117.821345 34.054077)
Plan Your Trip to Cal Poly Pomona
If you're not sure what buses to take, try using our Trip Planner.
Which Lines Serve Cal Poly Pomona?
Learn More
The Class Pass is a pilot program that gives current students unlimited rides on Foothill Transit buses all school year long. It also helps the entire community by reducing traffic and parking congestion around campus. Not bad for a piece of plastic.
The Class Pass is a card (TAP card) that is accepted on all Foothill Transit Local and Silver Streak buses, which connect you to 22 different cities throughout the San Gabriel Valley and downtown Los Angeles. Your Class Pass does not include the Commuter Express Lines 490, 493, 495, 498, 499 and 699.

Your class pass is loaded onto a TAP card that is accepted on 26 transit agencies across LA County. If you want to transfer to another agency, you can load cash value onto your card. Find out how on our TAP page.
Make a reservation to bring your current student ID (your Bronco ID number works too) to the Financial Services Desk, Bronco Student Center, 2nd Floor (BSC, Bldg. 35-2123) and ask for your Class Pass. That's it. It's 100% free for the whole school year.
Riding the bus is easy with our Trip Planner. Here you can find the bus line you need to ride and a bus stop near you to get started. You can also locate your bus using our Real-Time Bus Info.
Go to your bus stop — it'll be marked with a large sign in Foothill Transit blue and green.
Make sure you board the right bus — when a bus pulls up to the stop, look at its line number and destination on the sign above the windshield.
Pay your fare — just touch your Class Pass to the "TAP" symbol right on the farebox and listen for the beep.
Move as far to the back as you can, and find a seat or hold onto the handrail — please leave seats at the front open for elderly and disabled passengers.
Request a stop — when the bus approaches your stop, pull the cord or press the tape running along the windows, then exit through the doors in the back!
Still have questions? Check out our Bus Basics, call us at 800-RIDE-INFO (743-3463), or visit our full website at foothilltransit.org anytime!
The Class Pass pilot program has you covered for the whole school year as long as you're enrolled in classes! If you have any issues with your pass, contact the Bronco Student Center, Games Room, Etc. (Bldg. 35-1110) at (909) 869-4467 or asigamesroom@cpp.edu for some additional help.